Science and art? You might think : What do they have to do with each other ? The common answer would be nothing and you are partly right as both domains apparently seem to be opposed.
Science tends to be serious, realistic and obeys to a lot of rules and laws. On the other hand, art lets your creativity blossom and gives you total freedom over the final work. This opposition is also strengthened very early in life, at school when you have to choose whether you are more of a scientific or literary person in order to orientate your school curriculum.
But let's have a look at it from a different angle.
Let's picture an archaeologist brushing the dust off a historical site. The way he controls and uses precise movements looks just like the painter who uses his technique to apply meticulous and diligent brush strokes on his canvas. Some scientific results or explanations are well-matched with drawings and graphics that can be considered as pieces of art by their high complexity and beauty.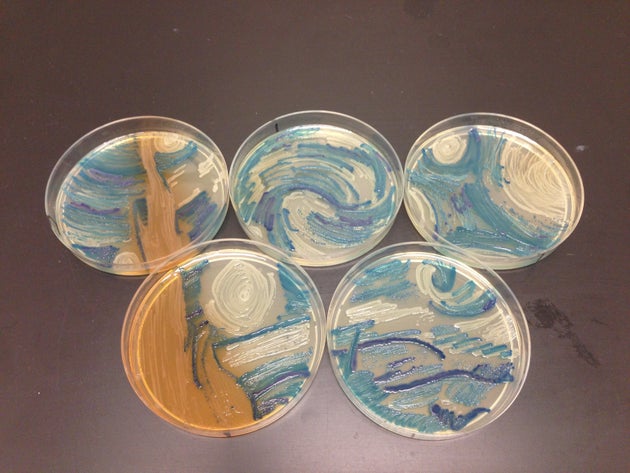 "Starry Night" Agar Art competition entry by Melanie Sullivan of Missouri – The huffington post
The truth is that science and art are both based on systematic methodology with the purpose of delivering a message to the audience, having more in common with each other than you may think. Art could also be a way of getting people's attention and raising awareness by using  a more emotional approach to scientific work.
That is what Imperial Innovations and Quicktech will demonstrate once again this year, with its annual art of research competition.
Art of research competition
The art of research competition celebrates breadth and depth of scientific research. Imperial Innovations and Quicktech is looking for photographs, illustrations, infographics and short video that tell the story of participant's work (students and staff of Imperial College of Science, Technology and Medicine).
Some of last year's best work :
The top prize went to Arkhat Abzhanov for his image of an alligator embryo dissected from an egg.
The People's Choice Award was presented to Catherine Teo for her image "Heart of Life", which shows the production of proteins in different parts of a cell.
All shortlisted entrants will have their image displayed in an exhibition in the entrance foyer of the Imperial College Business School London during March. The contest will be judged by a panel of science communicators and artists. As a Science lover and expert, our CEO Camille Cocaud will be part of the competition judging panel.
Learn more about the competition here.
How about your opinion? Can science be compatible with art? Leave your comments below or send us your thoughts and questions on this topic at contact@sparksandco.com. 
Julien has always been passionate about new technology and innovation. After several years traveling around Europe while improving his professional skills, he moved to Paris in 2017 to fulfill a new challenge as a Digital Marketer for a European science communication agency.
Latest posts by Julien Santin (see all)